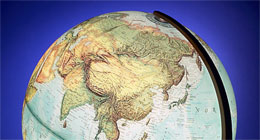 ATTORNEY PROFILES
SANDY KHINE [skhine@khinelaw.com]
Sandy Khine is the founding member and the managing partner of the Law Office of Sandy Khine, PC. Her concentration is primarily in Immigration and Nationality law.
Prior to establishing the Law Office of Sandy Khine, PC, Ms. Khine was an associate attorney at a private law firm in New York City working in the area of Immigration and Nationality Law, including removal and deportation defense. She is a graduate of the Benjamin N. Cardozo School of Law in New York City. A portion of her education also took place at the Hague Academy of International Law in the Netherlands and the New School for Social Research in New York City.
Ms. Khine also worked on research projects a the United Nations Centre for Human Rights in Geneva, Switzerland, at the United Nations Office of the Law of the Sea and the United Nations Development Fund for Women at their headquarters in New York City. She also worked in the litigation department at American Home Products Corporation, primarily focusing on products liability defense. Ms Khine is a member of the bar of the State of New York and the State of Connecticut, and is also admitted to practice in the United States District Court, Southern and Eastern Districts of New York.
Her professional affiliations include the National Immigration Project. Her community service has included pro bono work for the Lawyers Committee for Human Rights, Tibetan refugee organizations, and the International Burmese Monks Organization. Ms. Khine also volunteers as an advisor to the Burmese Women of New York, Inc. and Thingyan Association, Inc., both non-profit social and cultural organizations helping the Burmese community.
Ms. Khine was born in Rangoon, Burma and raised in New York, Washington, D.C., East and West Africa. She has resided in Southeast Asia, Europe and Africa, and traveled extensively throughout the Middle East and Pacific Rim. Ms. Khine fluently speaks Burmese and French.
RAYMOND D. RADOW [rradow@khinelaw.com]
Raymond D. Radow has been counsel to this office since 2003. After serving as an Assistant District Attorney in Kings County, New York, Mr. Radow currently practices commercial and civil litigation, tort litigation including medical malpractice and products liability, and criminal defense.
He is an experienced trial attorney and negotiator in the civil and criminal courts of New York City, the State of New York and in Federal Court. Mr. Radow's professional experience includes consulting work with private law firms in New York City.
He is a graduate of the Benjamin N. Cardozo School of law and New York University, where he concentrated his studies in International Economics. As a law student, he wrote for the Women's Law Journal. A portion of his undergraduate education took place in Middlesex, England.
Mr. Radow is a member of the bar of the State of New York and the State of Connecticut. His professional affiliations include membership in the New York State Bar Association and the New York County Trial Lawyers Association.
Mr. Radow performs community service by serving as a local prosecutor in Long Island, New York. He was born in New York City and has traveled extensively throughout Europe, the Middle East and East Africa.